Our Merchandise MarketplaceTM offers a wide variety of ultra-motivating, ultra-customizable award options for your employees, channel reps and customers. We know from our global experience and scientific research that the type of rewards you offer to your audience can make an enormous impact. Combine a tailored suite of tantalizing rewards with high-touch service (and budget control), and your audience—and you—will feel like winners.
You've never rewarded like this before.

Not all rewards are equal. To make your investment pay off, you need efficacy.
Efficacy refers to the ability something has to produce a desired result. We know—and research confirms— that hedonistic rewards, or those on the right-side of the spectrum below, have higher efficacy than those that are cash or utilitarian-based.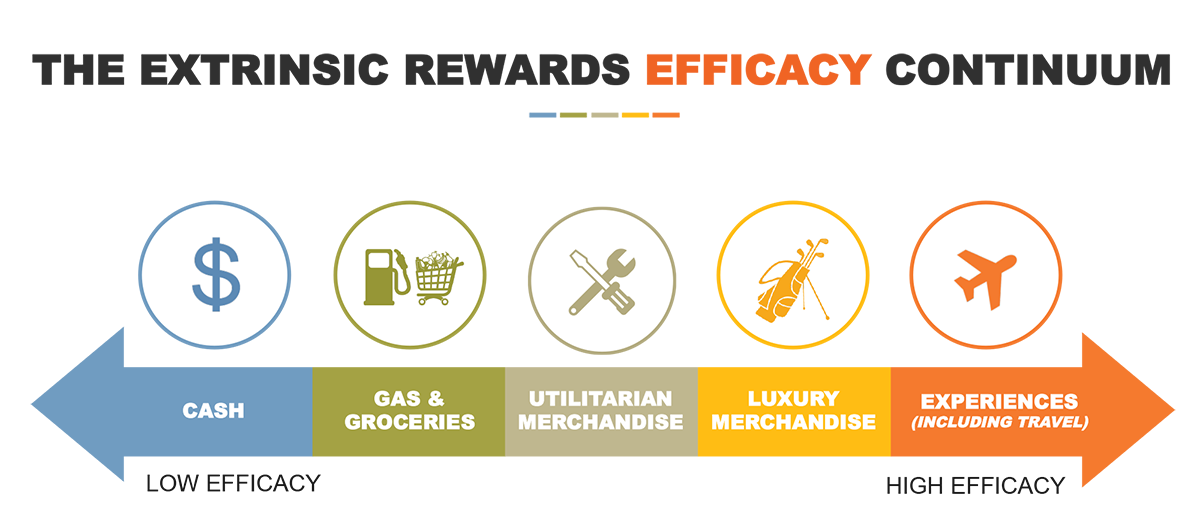 The Efficacy Continuum is important, but it's not the whole story. When designing your tailored suite of awards, we consider audience, budget and context to develop a Merchandise Marketplace that's a perfect fit for your goals.
Our Merchandise Marketplace features a curated, international offering of products aimed at motivating and inspiring your audience. These are the items on your wish list you'd find hard to justify buying for yourself. The Merchandise Marketplace is designed for high sociability (it's easier—and less awkward—to show off your new television than a cash bonus.)
Rewards anytime, anywhere.
Wherever you are, we're local. We have regional headquarters in seven countries and another 13 offices around the world. At each of our headquarters, our local buying teams are continuously updating our assortments to offer culturally-relevant and motivating rewards no matter where your audience calls home.
We have awards available in nearly 190 countries and over 90% of our orders ship without customs or duties due to our vast network of fulfillment partners.
Simple technology
Our Merchandise Marketplace has an intuitive user interface making it easy for anyone to browse rewards and place an order.
Each of our country-specific sites is optimized for mobile and tablet usage.
Each site offers locally-relevant stories designed to highlight new, seasonal, exciting award options.
Sites are offered in 20 local languages.
Our marketplace features many options for customization. Here are a few examples:
Removing competitive products
Adding your logo
Offering branded merchandise
Our Merchandise Marketplace easily integrates with many of our other solutions including our employee recognition platform.
Problem? No problem.
We want you and your audience to have an awesome experience with our marketplace, and we're willing to go the extra mile to ensure that happens.
Our customer service teams are located in our BIW offices around the world and staffed by BIW employees. We like to talk to our clients ourselves instead of outsourcing.

Our customer service teams work closely with our buying teams and fulfillment partners so we can provide fast, thorough support.
Our teams are experts in the nuances of local supply chains.
Customers receive support via phone, email and chat.
Receive support in 8 core languages.
Let's make your participants around the world smile.