Done right, a little appreciation goes a long way
Never underestimate the power of gratitude when it comes to attracting, retaining and motivating top talent. But what does gratitude look like in the workplace?
This is about more than saying thank you. It's about authentic, meaningful recognition experiences and rewards that inspire loyalty and performance.
To really make a difference, it's important to celebrate all employee milestones:
First day on the job
Promotions
Major goal achievements
Sales incentive program performance
Work anniversaries
But not all recognition programs are created equal. DayMaker Service Awards will personalize the way you celebrate and show appreciation for employee milestones.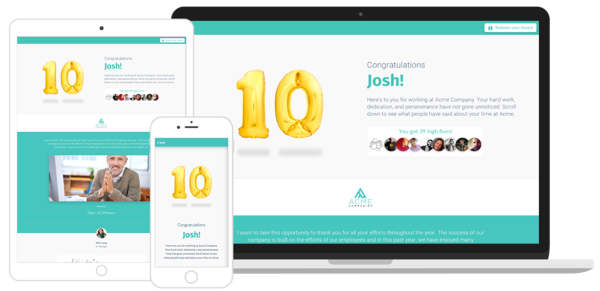 At the core of the program: A celebration page centered around making the recipient feel valued and appreciated.
Celebration pages mean more than you know. You have to be on the receiving end of it to truly understand but it's no wonder that so many recipients take advantage of the opportunity to print it so they can save it or display it. We also make it easy for them to send a "thank you" message to everyone who contributed.
DayMaker Service Awards is a powerful solution for celebrating employee milestones. Even better: it offers optional integration with our DayMaker recognition site. When combined, this all-in-one system offers a seamless participant experience to facilitate peer-to-peer recognition, manager-to-employee recognition, award redemption and milestone celebrations.