"Why do we have an employee recognition program and a feedback tool for performance management?"
This is a question we've been asked from time to time, particularly given recent changes in the approach to performance management. For the most part, gone are the days when managers hold one or two performance management conversations a year with their employees. Many companies are trending towards coaching, or giving employees regular, continuous feedback on how they're performing. But with greater activity may come some confusion about how providing feedback in the performance management process (including positive feedback) is different than reinforcing behaviors and accomplishments through an employee recognition program.
Leading HR association WorldatWork thoughtfully lays out the five strategies for Total Rewards[i], which includes the key category of "Performance and Recognition":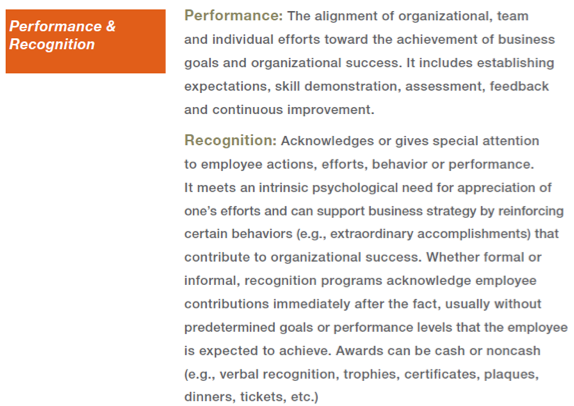 Although performance management and recognition are in the same strategy, they are unique, mutually exclusive elements of that strategy. There's a reason why WorldatWork calls them out separately—they are both important tools but ones that must be applied in the right situations.
To the busy manager, some of the finer points of difference may seem like minutiae so it is up to the organization to help managers understand how these tools work in tandem.
We think of it this way:

Emerging performance management tools allow for employees to receive feedback and coaching about what they can do better to achieve goals they've set. These are important data points for documenting the progress of an employee's performance and when combined with other information, can inform annual compensation changes as well as potential promotion opportunities.
But companies also need a system to, when appropriate, provide recognition to the employee who is exemplifying desired behaviors and achieving success as documented in the performance management process. Here's how they work together:
Using the recognition program can reinforce to the employee what is being documented in the performance management system.
Employees who see recognition that is being given on the public feed can learn what is being reinforced, which may inspire their efforts.
The recognition program can allow managers to use discretionary funds to reinforce the success of the employee.
The accumulation of points from successes documented in the performance management tool can be combined with other promotions (wellness, safety, referrals, etc.) by the employee to help them earn rewards that are inspiring to them.
Greater feedback increases the likelihood that we'll get the improvements in performance we require, so we can celebrate those successes and desirable behaviors using the infrastructure of an employee recognition program.
Great coaching + inspiring recognition = increased engagement = performance and business results.
---
[i] Total Rewards Model: A Framework for Strategies to Attract, Motivate and Retain Employees, WorldatWork.