Today the average American is enrolled in about 29 different customer loyalty programs. Research shows they are only likely to be engaged in four or five of them. Part of the reason for lack of engagement is that many customer loyalty programs are solely transaction based. Few strive to nurture a true customer experience or relationship beyond the transaction.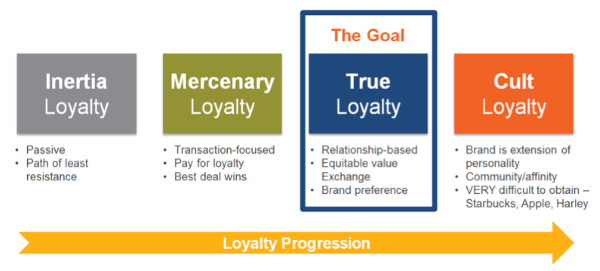 So where do you start to build a true customer loyalty program—one that creates a strong customer relationship and results in a loyal brand advocate?
Begin by mapping your customer lifecycle. Understand the journey they are on by identifying all the critical touchpoints and milestones in your product or service's lifecycle. These touchpoints and milestones offer the optimal times you should be in front of your customers with a timely message, promotion, offer, thank you or reward.
But we have to remember our customers are not all in the same place, at the same time, with the same wants and needs. That's where customer data and customer segmentation come in. Segmenting your customers is critical to your ability to be relevant to them. The content you serve up to a first time buyer should be different than the content you serve up to a customer who's been buying your product or service for years. Relevance of message or content to a customer says you know them. It's more personal and shows you know where they are at in your customer lifecycle.
Relevance is the key to driving greater engagement and response from your customers. And, the more engagement and response you get, the likelihood of your return on investment in your customer loyalty program increases.

Have you ever received an email or direct mail piece that makes an offer to you to try a product? Yet, you've been a customer of this product, maybe for years. How would that make you feel? Your first reaction might be—they don't know me or value my business. Instead of endearing you to the product or service, this offer is more likely to alienate you. At the very least, it's likely you'll feel unappreciated.
A relevant message campaign might welcome new customers to the brand and offer them something to make a repeat purchase, while the customers who have been buying product for some time might receive a special thank you for their business and some sort of reward demonstrating how valued they are.
Good customer segmentation, targeted touchpoints and milestones, relevant messaging and content—that's how you move from transactional loyalty to a relationship-based customer loyalty program.
Raise your level of relevance, increase your customer response and improve your ROI – now we're talking true loyalty.